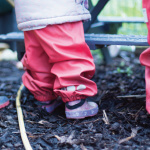 As the nights become lighter we are full of excitement of what is in store at Kids at Heart!
The children will spending more time outdoors now that the weather is becoming kinder to us! We will be learning about growth, life cycles and nature as we explore our lovely garden and surrounding fields whilst on walks and local adventures. With only a few months until the Summer, we will be preparing our Pre-School children as they start their transition to starting Primary school in September and look forward to hearing all the children's stories as they return from holidays with their families.
We always take our inspiration for activities from the children's current interests, but I'm sure we will be also very busy being creative with our art and craft activities at Nursery and Kids' Club and I've no doubt we will be cooking and baking some special treats in the next few months. As the children love to read, we will have lots of new stories and songs to learn. Some of our favourite ones will no doubt be read again, such as 'Going on a bear hunt' and 'The Gruffalo'
Our Out of School Kids' Clubs will have lots of activities to suit every child but also the opportunity to just chill out and spend time with friends. During the school holidays we will have a fun-filled, action-packed plan at our holiday Kids' Club which operates all day between 7.00 am – 6.30 pm at Woodlands Kids' Club.
Looking forward to seeing you.
Kids at Heart team