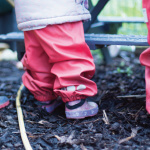 We are full of excitement of what is in store at Kids at Heart!
We always take our inspiration for activities from the children's current interests and will be very busy being creative with our art and craft activities at Nursery and Kids' Club. During February we are looking forward to creating Valentines Day cards for the special people in our lives, celebrating Shrove Tuesday and Mother's Day in March. Looking ahead to Easter, the children will create bunny ears, go on an Easter egg hunt and make some delicious treats.
As the children love to read, we will have lots of new stories and songs to learn. Some of our favourite ones will no doubt be read again, such as 'The Gruffalo and 'Going on a Bear Hunt.' We will also be celebrating 'World Book Day' and are inviting the children to come to nursery dressed as their favourite character in a story book. Our Pre-School children have also been busy creating their own 'first poems' which may be published in a book in the very near future, we are very proud of their hard work.
In the lead up to the summer, we will continue to utilise our fantastic outdoor space, get our gardening gloves on and do some planting and have lots of fun in our Willow Den and mud kitchen. We will continue to develop our dancing and football skills on a weekly basis during term time and look forward to some sunshine!
Our Out of School Kids' Clubs will have lots of activities to suit every child but also the opportunity to just chill out and spend time with friends. During the school holidays we will have a fun-filled, action-packed plan at our holiday Kids' Club which operates all day between 7.00 am – 6.30 pm at Woodlands Kids' Club.
Looking forward to seeing you.
Kids at Heart team